ISG Provider Lens™ Contact Center as a Service - CX - Global 2021
The contact center industry is facing dramatic shifts, from evolving enterprise buying behaviors and technological demands, to newer working models. In the last 16 to 18 months, the industry has experienced a seismic shift. End-user buying patterns have taken a dramatic shift, and in many instances an irreversible change has begun. Adoption of digital customer experience (CX) has significantly grown. In an era where "contactless" has become a new norm, most enterprises are turning to digital in order to sustain businesses. From small vendors to conglomerates, businesses have doubled their digital use when compared to the pre-pandemic days. Retail shopping has gone digital, physical restaurants have gone digital with online or contactless ordering, and healthcare has turned to online consultation. With the changing landscape, customer care relies heavily on digital channels, such as WhatsApp, that are becoming mainstream communication channels for business enablers.
Another trend that is redefining the norms of customer care is the new hybrid working model. With pandemic-led lockdowns still prevailing in many parts of the world, a large part of the contact center workforce continues to work from home. Realizing some of the benefits of the work-from-home model, many companies are looking to adopt, or have already adopted, a hybrid working model. As this becomes the new norm, companies are now looking to adopt cloud contact centers in order to enable work-from-home on an ongoing basis.
The benefits of the cloud contact center are not alien to industries. Over time, the contact center as a service (CCaaS) solution has evolved, and offers much more than just basic channels of communication. Cloud contact centers are designed as full-blown solutions with multiple features and functionalities, including workforce management or optimization, alongside such embedded technologies as AI, automation, and analytics.
As the industry is evolving, so is the contact center as a service solution. The following paragraphs define some of the trends influencing the customer experience industry.
AI is redefining customer experience: Continuous advancements in AI have led to greater confidence in what AI can deliver. With extensive investments in R&D, AI systems can ingest tons of data in order to augment human capabilities. AI has become more critical to the industry than ever. Going beyond level 1 queries, AI plays a much larger role in query resolution, where a bot is able to determine the need for human intervention, and handle skill-based routing, based on customer needs. Cloud contact centers are extensively tapping into AI, and vendors are heavily investing in making contact centers highly AI driven. Recent acquisitions in this industry by some of the cloud contact center vendors indicate that investments are going in this direction, in order to boost the company's portfolio of solutions.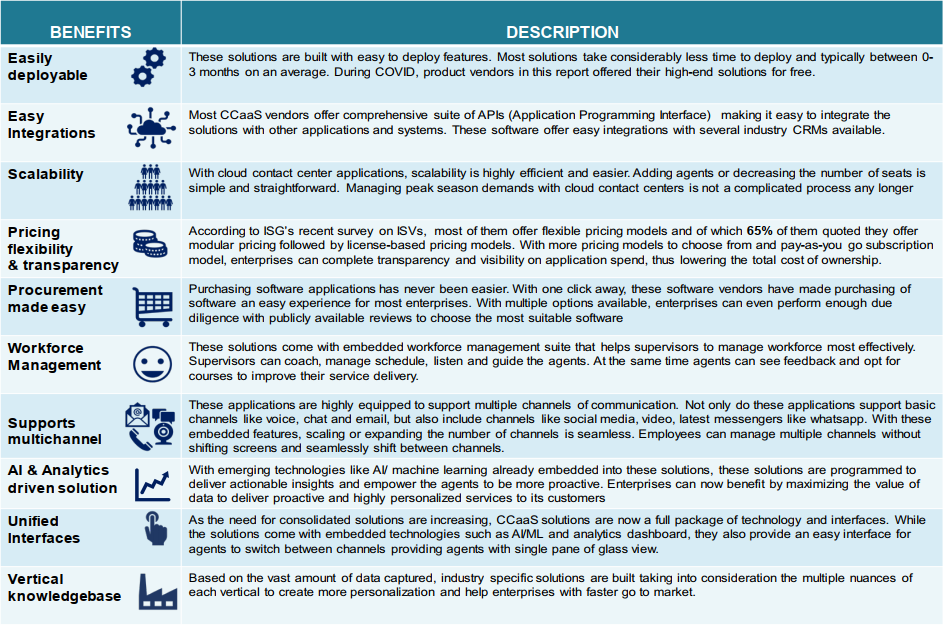 Cloud migration is on the rise: There is no doubt that COVID accelerated the growth of cloud adoption. Cloud-based contact centers are no exception. According to ISG Index Q2 2021, as-a-service market is growing at 20%+ CAGR, with cloud leading the way. SaaS ACV grew by 15% in 1H2021 and stands at ACV $5.7 billion. Cloud strategy is a top priority for most organizations, because the hybrid working model is here to stay. Enabling business continuity and agility is a prime focus, and the industry is witnessing an accelerated growth in cloud migrations and SaaS platforms. This transformation will continue to grow and, according to ISG Index, the as-a-service market is forecasted to grow at more than 24%.
Increased focus on workforce management: As the hybrid working model becomes the industry standard, maintaining ongoing engagement levels is a prime concern for enterprises. As much as customer experience is important, employee experience and management is equally important to ensure higher quality outcomes. Thus, most CCaaS product companies are investing in expanding their product capabilities to include such extensive workforce management capabilities as speech analytics, supervision features, real-time coaching functionality, and gamification. These capabilities enable businesses to virtually maintain engagement levels with their employees.
Omnichannel communication regains attention: Omnichannel is not a new concept. However, given the massive increase in the number of channels, omnichannel once again becomes a critical feature of all CCaaS products. Ensuring seamless conversation across channels is a foundation for enhanced customer service.
Agent experience takes center stage: The industry has talked about customer experience, but talked less about agent experience. However, that trend is gradually changing. Agent experience is given the same weight as customer experience. Agent experience is a critical area of focus for these product companies. Investments are going into building comprehensive agent dashboards with built-in analytic functionalities and insights, enabling agents to deliver smarter and better results. From user interface, to training, coaching, and analytics-led insights, these products have come a long way toward ensuring good agent experience.
The importance of the cloud contact center has significantly increased: As the buyer landscape changes, cloud contact center companies are investing in improving the features and functionalities of their products, in order to accommodate evolving enterprise requirements. Companies are actively looking to invest through mergers and acquisitions, and to spending in R&D in order to broaden their portfolios. Mergers and acquisitions are quite active in this space. The following are some of the key M&As in this space and also the capabilities that companies are acquiring through these acquisitions.
Access to the full report requires a subscription to ISG Research. Please contact us for subscription inquiries.
Page Count: 31
To purchase this product or for more information, please contact your account manager: